Meet

The Howards

"What we were able to get for the price – the square-footage, the included features, the lakefront – it's just a great value,"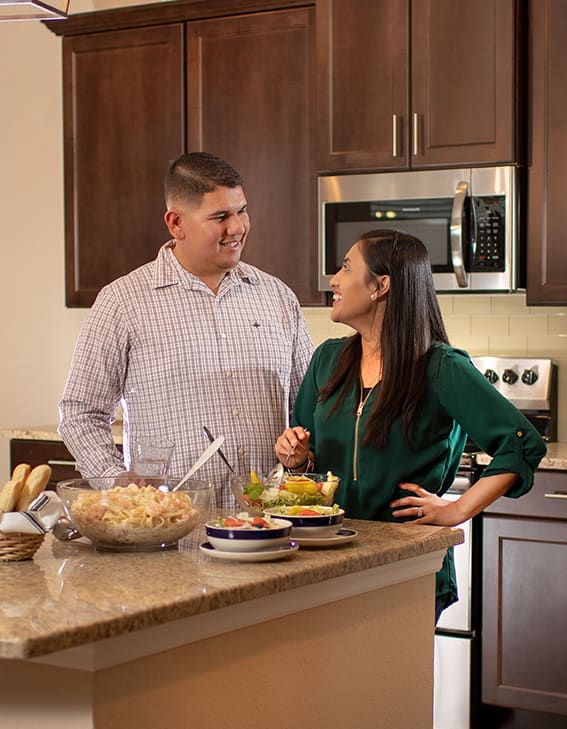 Michelle Howard, a local realtor with Keller Williams, and her husband Chris Howard, a former United States Air Force Staff Sergeant, were living in Tampa and working in Lakeland. After deciding they were over the commute, they began their search for a new home in Polk County.
"We weren't sure if we were going to buy an existing home or build, so we explored both options," Chris said. "After visiting multiple homes, we decided on new construction because we could build exactly what we wanted."
"We're in our fifties, and we didn't want a project," Michelle added. "We wanted something new; we wanted to invest in our forever home."
Michelle and Chris had heard many great things about Southern Homes and began to do some research for themselves. The couple was excited to learn that with Southern Homes, they could get more square footage than what they expected for their budget. After visiting the Rockingham II model home in the Hallam Preserve community in Lakeland, Michelle and Chris knew it was the floor plan for them.
"We wanted a split floor plan," Chris said. "We have two Great Danes, and we love to entertain, so having a home that is open and spacious is important."
"I also wanted an office, and a kitchen in the back of the home that opened up to the great room," Michelle said. "The Rockingham II met all our desires and was our favorite floor plan of all that we visited."
With the floor plan selected, Michelle and Chris now needed to determine where they wanted to build their new home.
Originally, the Howards thought a lakefront home was out of reach. However, Southern Homes New Home Specialist Janet Backman encouraged them to visit Lake Mariana Reserve, a Southern Homes' community in Auburndale.
"As soon as I could see the lake from where the front door of our home would be, and I learned it was in our price range, it was a no-brainer," Michelle said.
And then the Howard's journey began!
Throughout the buying process, Janet guided the Howards and kept them informed.
"Janet is no-nonsense and so knowledgeable, which I really appreciated," Chris said. "Everything she said would happen during the process happened, so there were no surprises."
Once construction began on the home, their Personal Builder Jacob took over.
"We love Jacob," Michelle said. "He called us every Friday for our weekly check-ins and kept us well-informed of every stage in the process."
Now that the Howards have closed on their home, they're busy making it their own. Chris custom-built a deck on the lake, and they enjoy both the indoor- and outdoor-living on Lake Mariana.
"What we were able to get for the price – the square-footage, the included features, the lakefront – it's just a great value," Michelle concluded. "We are so happy with the communication, workmanship, and extra features provided by Southern Homes; we couldn't be more pleased with our home or the process."
Chris added, "We've already referred multiple people to Southern Homes!"